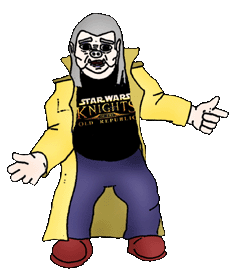 Tech Specialist
The Tech Specialist can be found across the galaxy. From the outlaw patching together old starships in the the Out Rim, to the highly paid expert working for the Empire or a large Corporation in the Core Worlds. While there is technology, there is a need for the Tech Specialist.
Presented here is a modified version of the Tech Specialist presented in the Revised Core Rule Book, page 52, incorporating modifications made to the class in Jedi Counseling 77 as well as my own modifications, indicated by SLR.
Skill Points: 6 + INT - from Jedi Counseling 77 & SLR
Bonus Feat - from Jedi Counseling 77
Artistic*, Cautious, Cybernetic Surgery*, Dodge, Gearhead, Inventor*, Kit-Bashing*, Low Profile, Sharp-Eyed, Spacer, Starship Dodge, Starship Operation, Surgery, Technical Wizard*, Weapon Group Proficiency (blaster pistols), Zero-G Training. The tech specialist still must meet all prerequisites for the feat to select it.
* Feat found in the Hero's Guide.
Stacking Tech Specialties - from Jedi Conseling 77
In this variant rule, the Tech Specialty ability is changed so that each time the character gets it, he selects one new specialty at +1, and all previous specialties also increase by +1 (to a maximum of +3). Thus, after a character has gained six Tech Specialty abilities, he'll have four at +3, one at +2, and one at +1. This encourages the tech specialist to select his chosen specialties early in his career, but he can still gain competence and even mastery of more than a few different specialties over time.
Mastercraft SLR - There is no EXP cost for Mastercraft items.
Instant Mastery SLR - At 3rd and 16th levels the Tech Specialist becomes exceedingly proficient in an area of his work. Choose a single Class Skill, once per day a Tech Specialist may re-roll a skill check in this skill with a +4 bonus.
| | | | | | | | |
| --- | --- | --- | --- | --- | --- | --- | --- |
| Level | Base Attack | FORT | REF | WILL | Special | Defense | Reputation |
| 1 | +0 | +0 | +1 | +1 | Skill Emphasis, Bonus Feat | +2 | +0 |
| 2 | +1 | +0 | +1 | +1 | Research | +3 | +0 |
| 3 | +2 | +0 | +2 | +2 | Instant Mastery SLR | +3 | +1 |
| 4 | +3 | +1 | +2 | +2 | Tech Specialty | +3 | +1 |
| 5 | +3 | +1 | +3 | +2 | Expert | +4 | +1 |
| 6 | +4 | +2 | +3 | +3 | Bonus Feat | +4 | +1 |
| 7 | +5 | +2 | +3 | +3 | | +5 | +2 |
| 8 | +6/+1 | +3 | +4 | +4 | Tech Specialty | +5 | +2 |
| 9 | +6/+1 | +3 | +4 | +4 | | +5 | +2 |
| 10 | +7/+2 | +4 | +5 | +4 | Expert | +6 | +2 |
| 11 | +8/+3 | +4 | +5 | +5 | Tech Specialty | +6 | +3 |
| 12 | +9/+4 | +5 | +5 | +5 | Bonus Feat | +7 | +3 |
| 13 | +9/+4 | +5 | +6 | +6 | | +7 | +3 |
| 14 | +10/+5 | +6 | +6 | +6 | Tech specialty | +7 | +3 |
| 15 | +11/+6/+1 | +6 | +6 | +6 | Expert | +8 | +4 |
| 16 | +12/+7/+2 | +7 | +7 | +7 | Instant Mastery SLR | +8 | +4 |
| 17 | +12/+7/+2 | +7 | +7 | +7 | Tech Speciality | +9 | +4 |
| 18 | +13/+8/+3 | +8 | +7 | +8 | Bonus Feat | +9 | +4 |
| 19 | +14/+9/+4 | +8 | +8 | +8 | Tech Specialty | +9 | +5 |
| 20 | +15/+10/+5 | +9 | +8 | +8 | Expert | +10 | +5 |