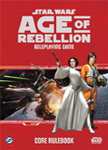 Star Wars - Age of Rebellion
The below campaign is my current one. It does take place in my own Star Wars Universe but with a few exceptions that can be found on the Age of Rebellion campaign pages.
I started playing Shadowrun back with 1st Ed. Skipped 2nd, liked 3rd but didn't play it, disliked 4th, and quite like the current 5th edition. Mixing future cyber-punk technology with magiuc and fantasy creates a great world for role-playing. I still find the system can be a bit clunky at times but it's worth it to run the shadows.