The following rules are based upon the WEG Lightsabre Duelling Pack converted for use with the D6 rules system.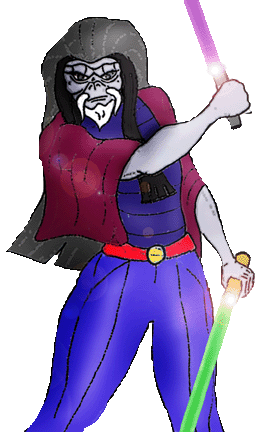 How it works
Initiative - the Jedi with the lowest SENSE or Perception declares first.
Difficulty numbers - no Melee Parry is rolled, it is presumed that the Jedi will be parrying. The Difficulty to hit an opponent is the number of 'pips' in their Melee Parry Skill (plus Sense if using Lightsabre Combat power). Eg. Melee Parry 8D = 8 x 3 = 24. The Minimum Difficulty is 20.
Dice penalties - Combatants make only one attack action but are presumed to be parrying, therefore skill checks are at -1D. If a Jedi is using Lightsabre combat skill checks are at -2D (though the Jedi gain the dice advantage of the power).
Attack - Each combatant rolls their attack dice. The highest roll wins provided they made the difficulty for their attack. Each move has different difficulty attack modifiers eg. Full Downswing is difficulty no. +20.
Roll damage - as per normal damage rules.
Next round attack limitations - if an attack hits the attacker reads the 'Opponent Effect' of the action. The opponent must comply with this or lose their next round action.
Special Effects - some moves require certain criteria before they can be performed eg. Enraged Sideswing requires the attacker to have received damage the previous round. Some Special Effect also limit the attacker actions in the next round.
Using Lightsabre Combat Jedi power - CONTROL is only added to damage of any attack where the attack dice roll beats the difficulty by 20.
Enraged
Move: Downswing
Difficulty: + 15
Damage modifier: + Strength
Opponent Effect: Can not make any High attacks next round
Special Effect: Must have received damage previous round
+1 Dark Side Point
Move: Sideswing
Difficulty: + 10
Damage modifier: + 3D
Opponent Effect: Can no make any Thrust attacks next round
Special Effect: Must have received damage previous round
+1 Dark Side Point
Sideswing
Move: Full Swing
Difficulty: + 20
Damage modifier: + Control
Opponent Effect: none
Special Effect: none
Move: Low Swing
Difficulty: + 5
Damage modifier: + 2D
Opponent Effect: Can not make a High attack next round
Special Effect: No Sideswing attacks next round
Move: High Swing
Difficulty: + 10
Damage modifier: + 3D
Opponent Effect: Can not make a Thrust attack next round
Special Effect: No Sideswing attacks next round
Move: Wild Swing
Difficulty: + 0
Damage modifier: none
Opponent Effect: Can not make Thrust or Spin & Strike attack next round
Special Effect: Can only make Sideswing attack next round
Thrust
Move: High Thrust
Difficulty: +10
Damage modifier: + 2D
Opponent Effect: Sideswing only next round
Special Effect: Can not make a Thrust or Low attack next round
Move: Low Thrust
Difficulty: + 5
Damage modifier: + 1D
Opponent Effect: Can not make a Low attack next round
Special Effect: Can not make a Thrust or High attack next round
Move: Charge
Difficulty: +20
Damage modifier: + Control
Opponent Effect: none
Special Effect: Only make Spin & Strike attack next round
Spin & Strike
Move: Spin & Strike Full
Difficulty: + 20
Damage modifier: + Control
Opponent Effect: none
Special Effect: Can not make Spin & Strike attack next round
Move: Spin & Strike High
Difficulty: + 15
Damage modifier: + 2D+2
Opponent Effect: none
Special Effect: Can not make Spin & Strike attack next round
Move: Spin & Strike Low
Difficulty: + 10
Damage modifier: + 1D+2
Opponent Effect: none
Special Effect: Can not make Spin & Strike attack next round
Special
Move: Disarm
Difficulty: +20
Damage modifier: none
Opponent Effect: Drops weapon
Special Effect: none
Move: Web of Death
Difficulty: +20
Damage modifier: + 2D
Opponent Effect: Forced backwards
Special Effect: Parry +2D next round
Move: Force Back
Difficulty: + 0
Damage modifier: none
Opponent Effect: Forced backwards
Special Effect: Can not make Sideswing or Spin & Strike attack next round
Force combat powers
Move: Force Push
Difficulty: ALTER: 15 + Opponents Perc/Control
Damage modifier: none
Opponent Effect: Opponent pushed backwards & falls prone losing all actions
Special Effect: none
Move: Sense Maneuver
Difficulty: SENSE: Opponents Perc/Control
Damage modifier: none
Opponent Effect: none
Special Effect: Dice roll - Difficulty number is added to Parry next round
Move: Retrieve Weapon
Difficulty: ALTER: Easy (7)
Damage modifier: none
Opponent Effect: none
Special Effect: Retrieved weapon Telekinetically
Move: Hurl Objects
Difficulty: ALTER: Light objects: Moderate; Heavy Objects: Difficult
Damage modifier: Light objects (1D)D damage
Heavy Objects ALTER roll as Damage
Opponent Effect: none
Special Effect: none